BR-01
A pale blue tulle shirt with threadwork in shades of blue and antique silver along with three dimensional motifs, heavily adorned with tube beads, diamante', pearls and crystals. A deep appreciation for simplicity was the driving element behind the design of this avant-garde bridal. Blue net shirt with shades of blue n silver threads .. 3D work , Kat Dana , diamonte, pearl, crystals work.
Book An Appointment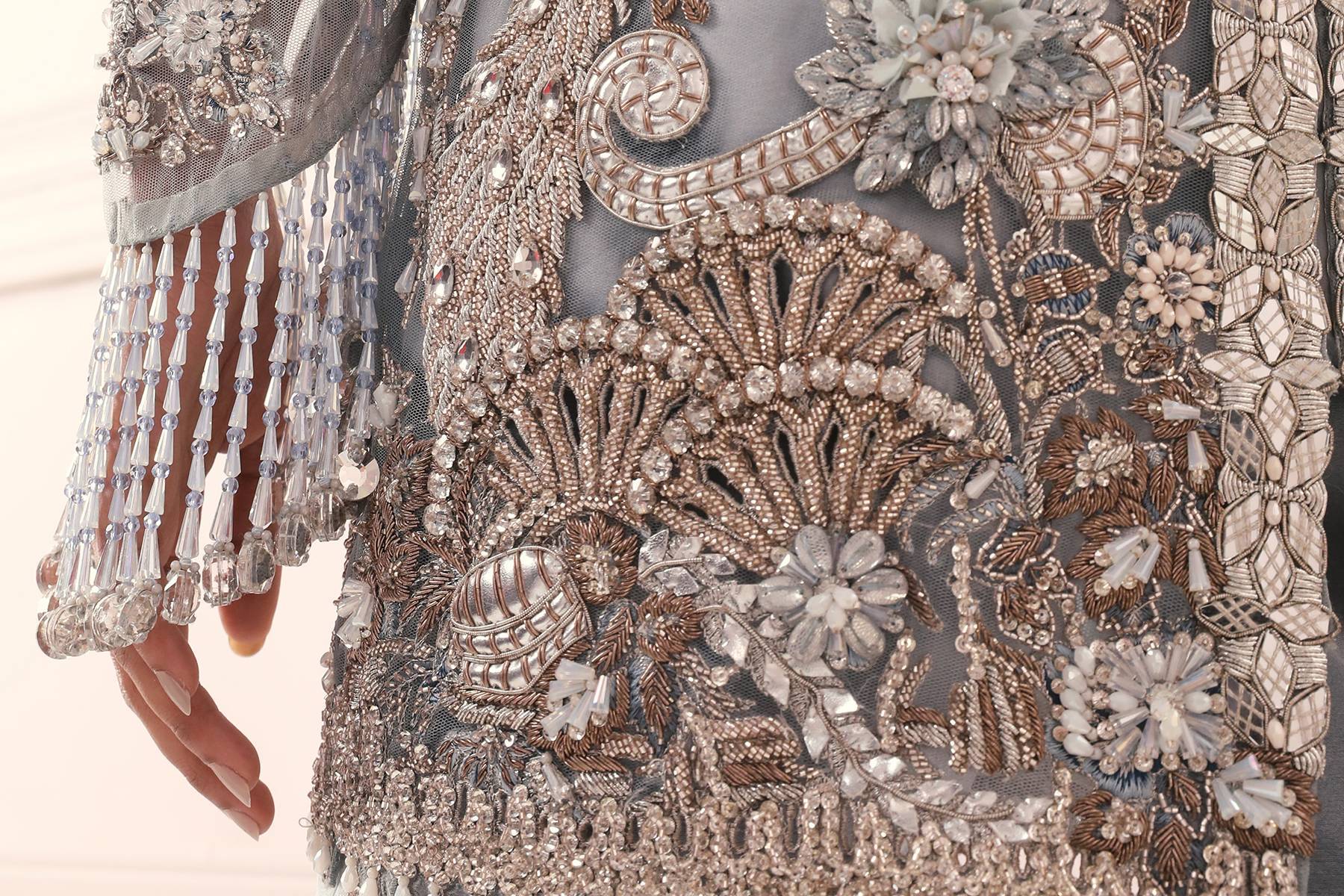 BR-02
Noir tulle with antique silver and rose gold work with light refracting tube beads, gleaming crystals and shiny stones. A monochromatic look for the bride who wants to make a dramatically different style statement in a modern rendition of classical elements.
Book An Appointment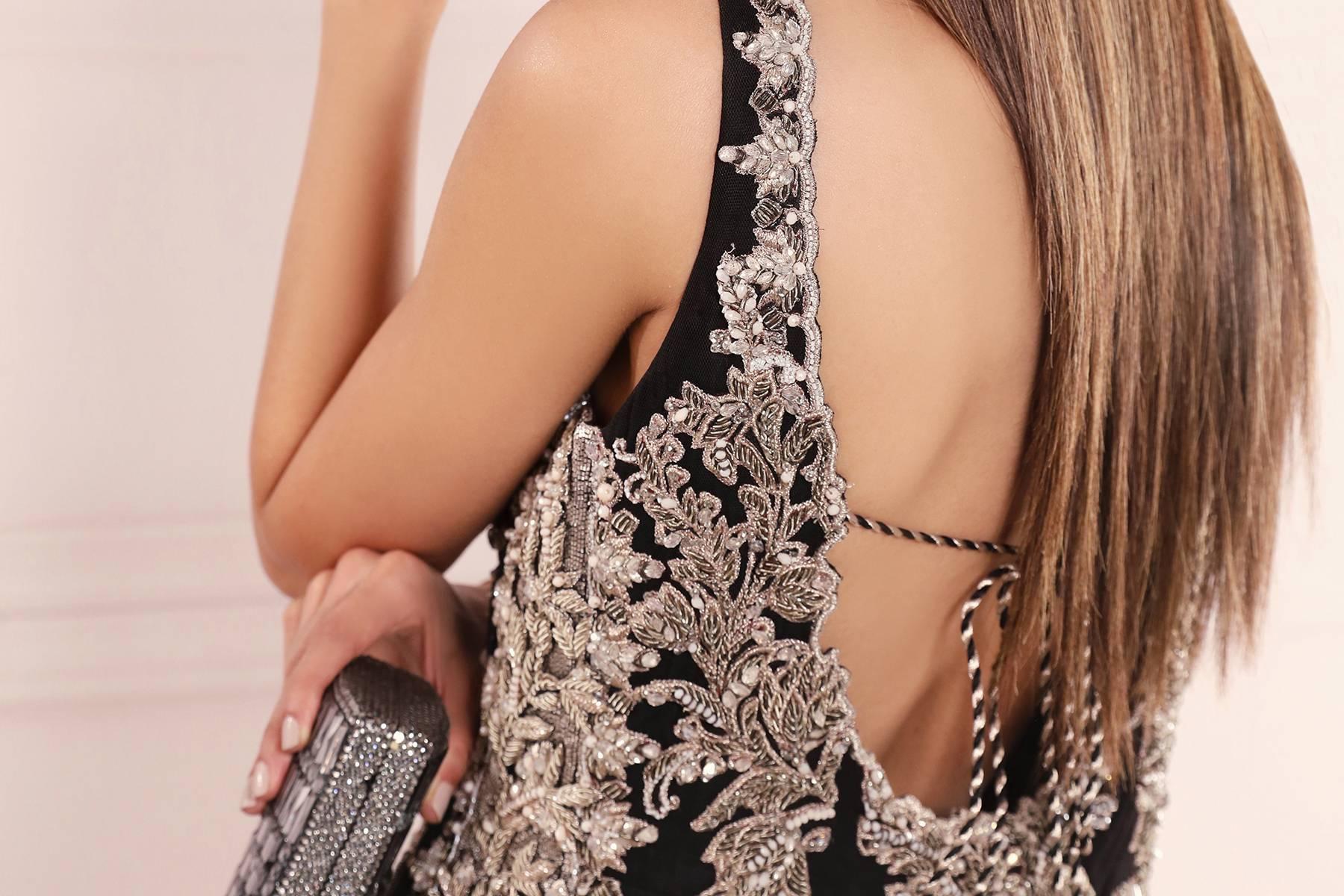 BR-03
A melody of pastel shades. This soothing mint green tulle jacket features our signature blend of beads, sequins, tube beads and heavy kora work alongside three dimensional hand cut flowers. Accompanied by a pretty pink tulle dupatta and a heritage inspired mint green gota gharara, this ensemble is the perfect marriage of the best of the east with that of the west.
Book An Appointment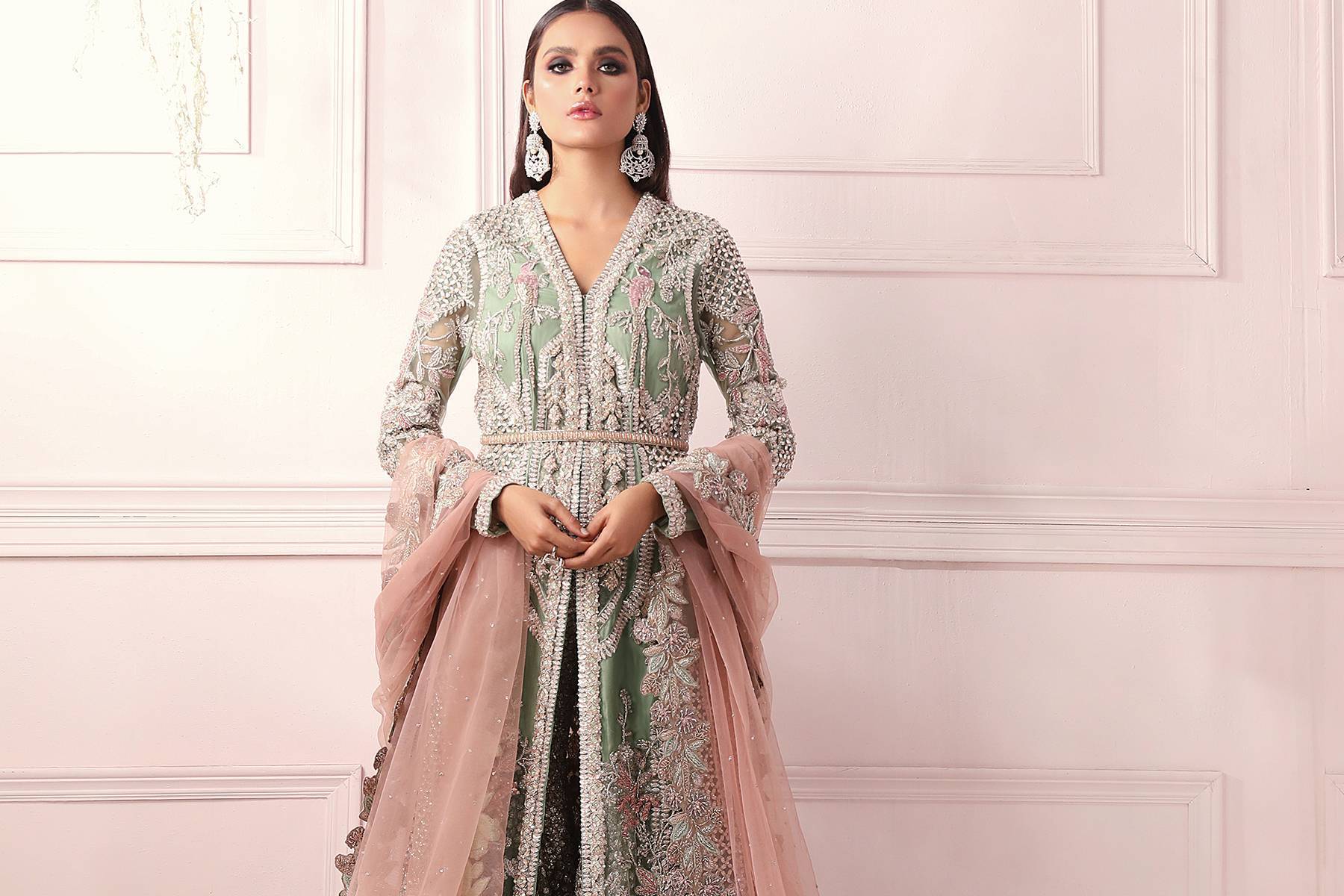 BR-04
An offering of flowers! This poetic bridal features a printed pink and gold inner shirt worn under a nude pink organza dress with a mint tulle dupatta edged with handmade 3D flowers, leaves and vines. Floral embroidery is adorned with pearls, crystals, sequins, beads, stones and traditional zari-work. Spring is in the air!
Book An Appointment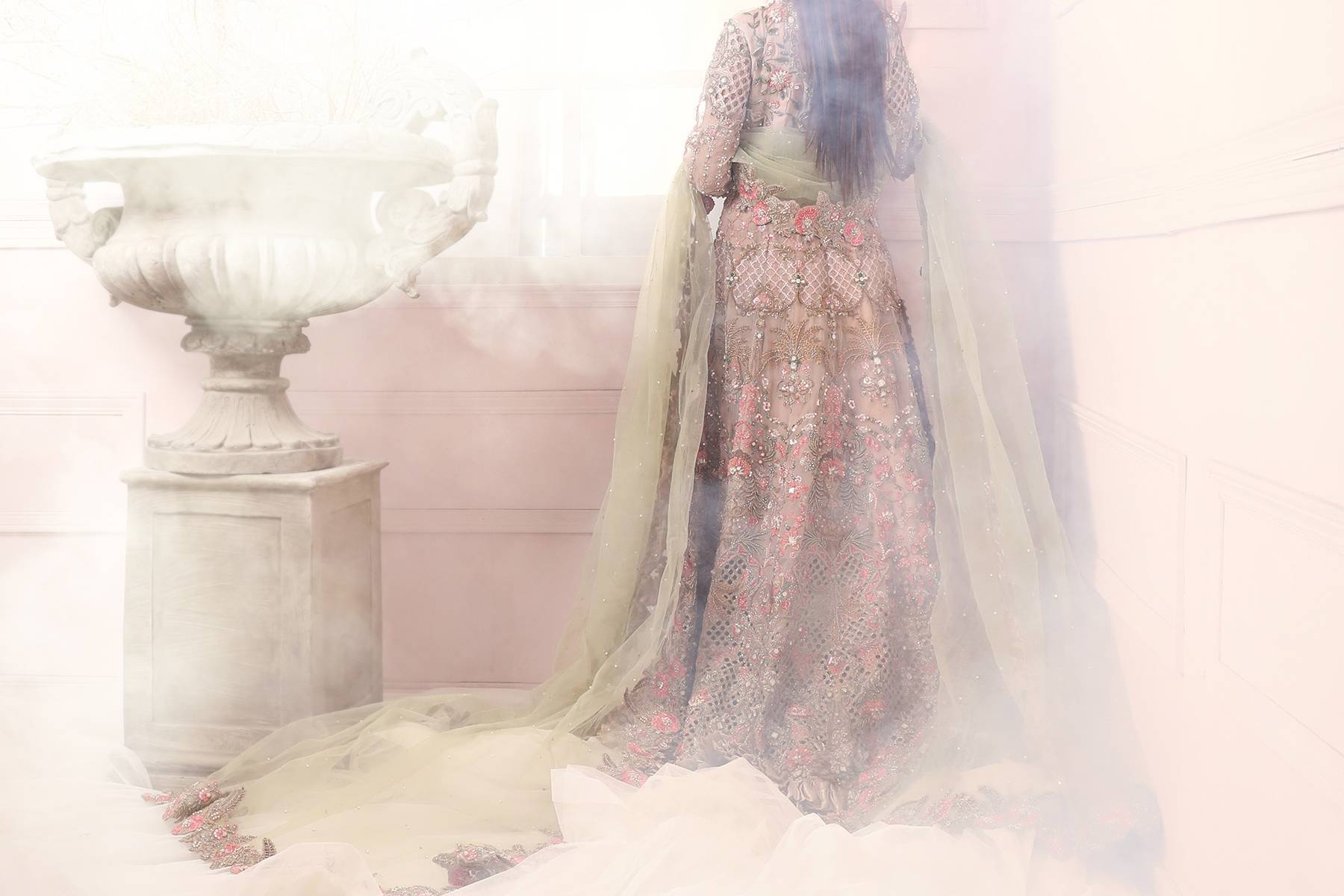 BR-05
Inspired by patterns and the muted hues found in nature, this is an updated version of a classic bridal silhouette. The delicate airiness of mint green tulle is anchored by multi-faceted tube beads, incandescent crystals and blush pink silk thread work. Channel your inner Minerva in this poetic rendition of heritage elements.
Book An Appointment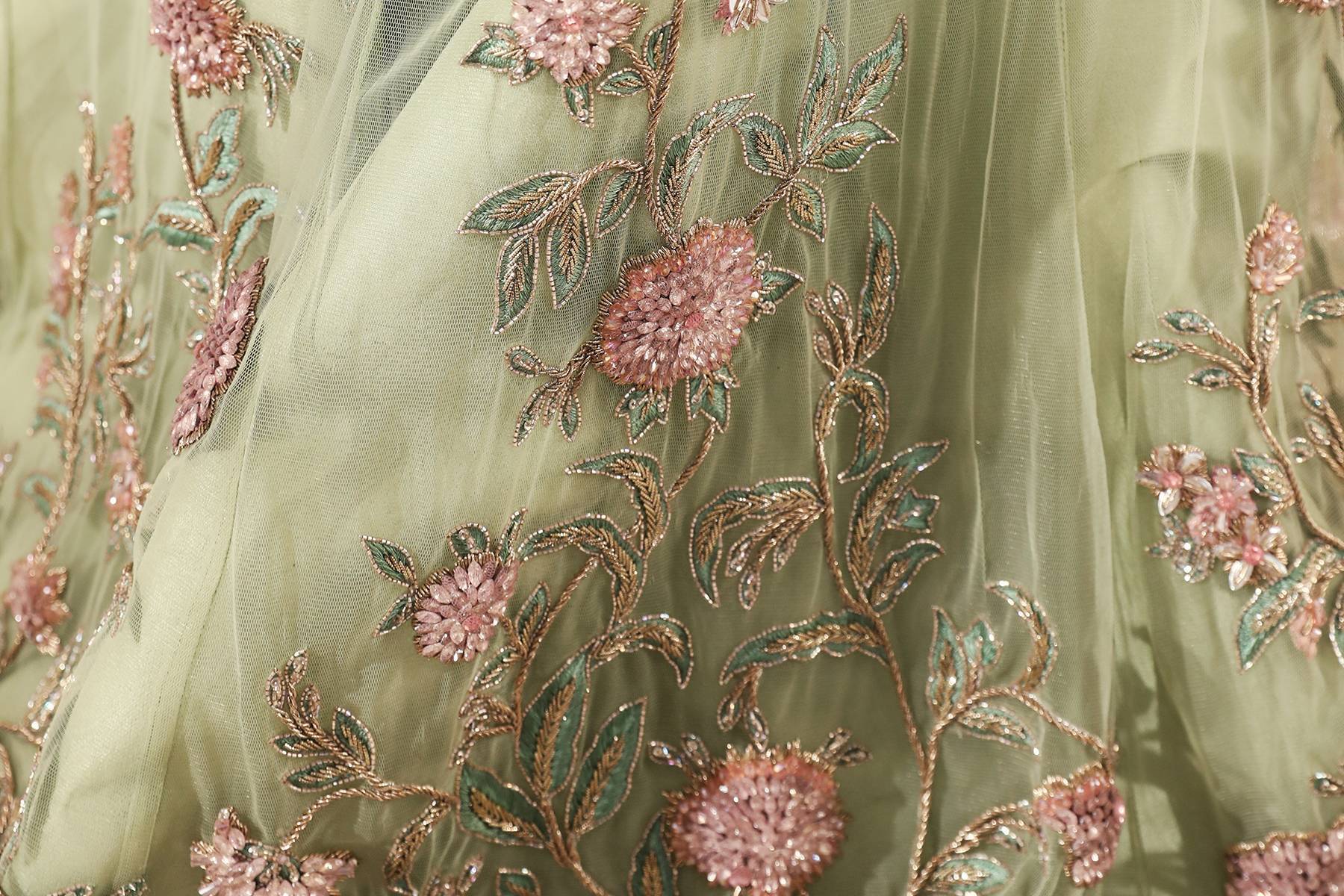 BR-06
Embody a celestial goddess and make a statement in twinkling silver! This silvery mint shirt in diaphanous organza is heavily encrusted with shimmering tube beads, iridescent pearls, glittering crystals, glimmering beads and fine silk threadwork.
Book An Appointment

BR-07
The opulence of the East blended with a Western sensibility, this Bespoke Bridal features a classic Peshwas silhouette in romantic rose pink tulle and is worn over a beetroot red traditional lengha in raw silk with a rich gold print and exquisite hand work. Our craftsman have labored for many hours to achieve a scintillating brew of gold and silver tilla, hand cut sequins, zardosi, stones, pearls, crystals and quintessential eastern gota work.
Book An Appointment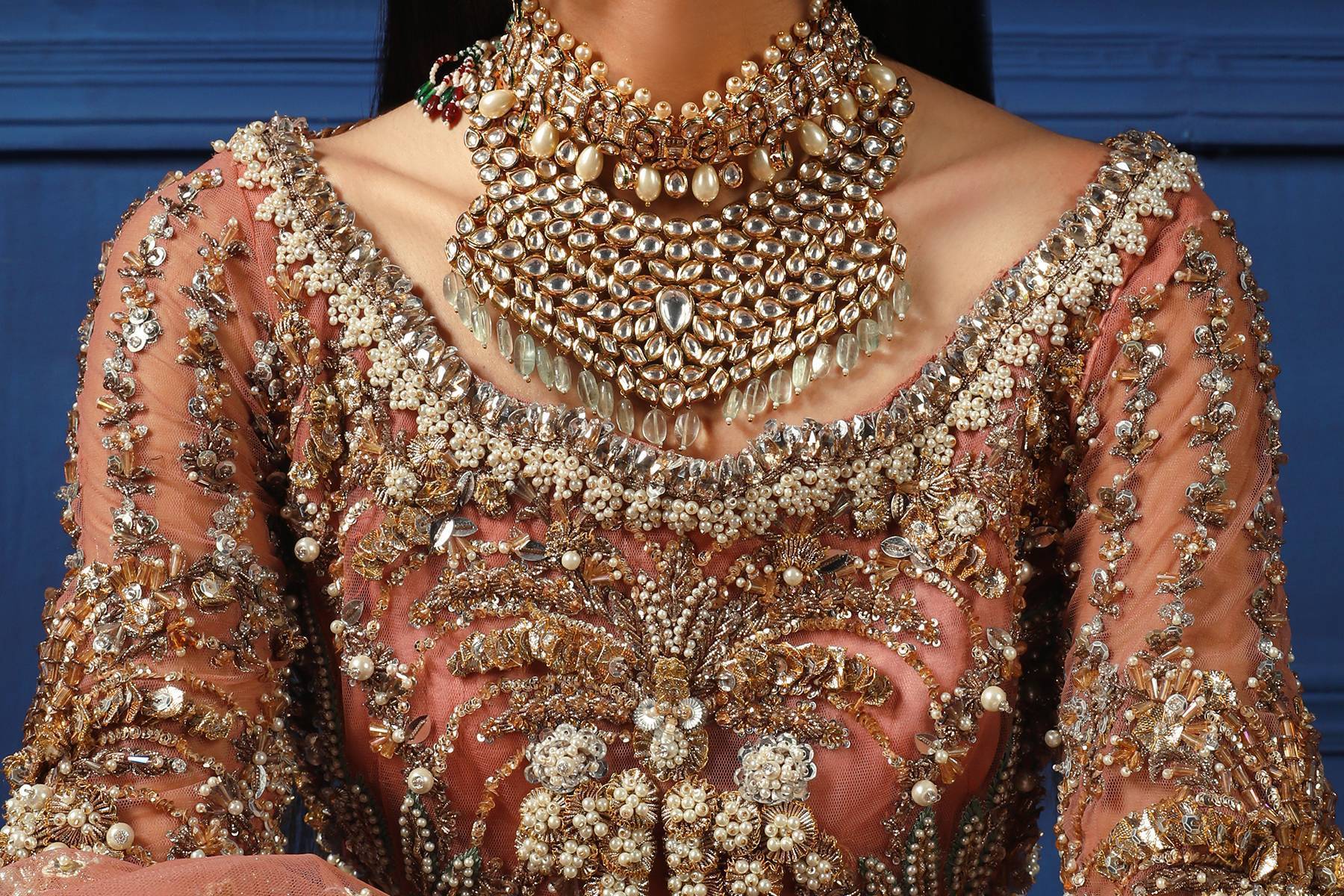 BR-08
A celestial silver cloud grey front open floor sweeping tulle jacket, paired with an exquisite tulle lengha with sequins arranged in a linear pattern. Embrace heaven on earth in silver and gold work heavily encrusted with crystals, stones and pearls, offset by ethereal silver gota threadwork.
Book An Appointment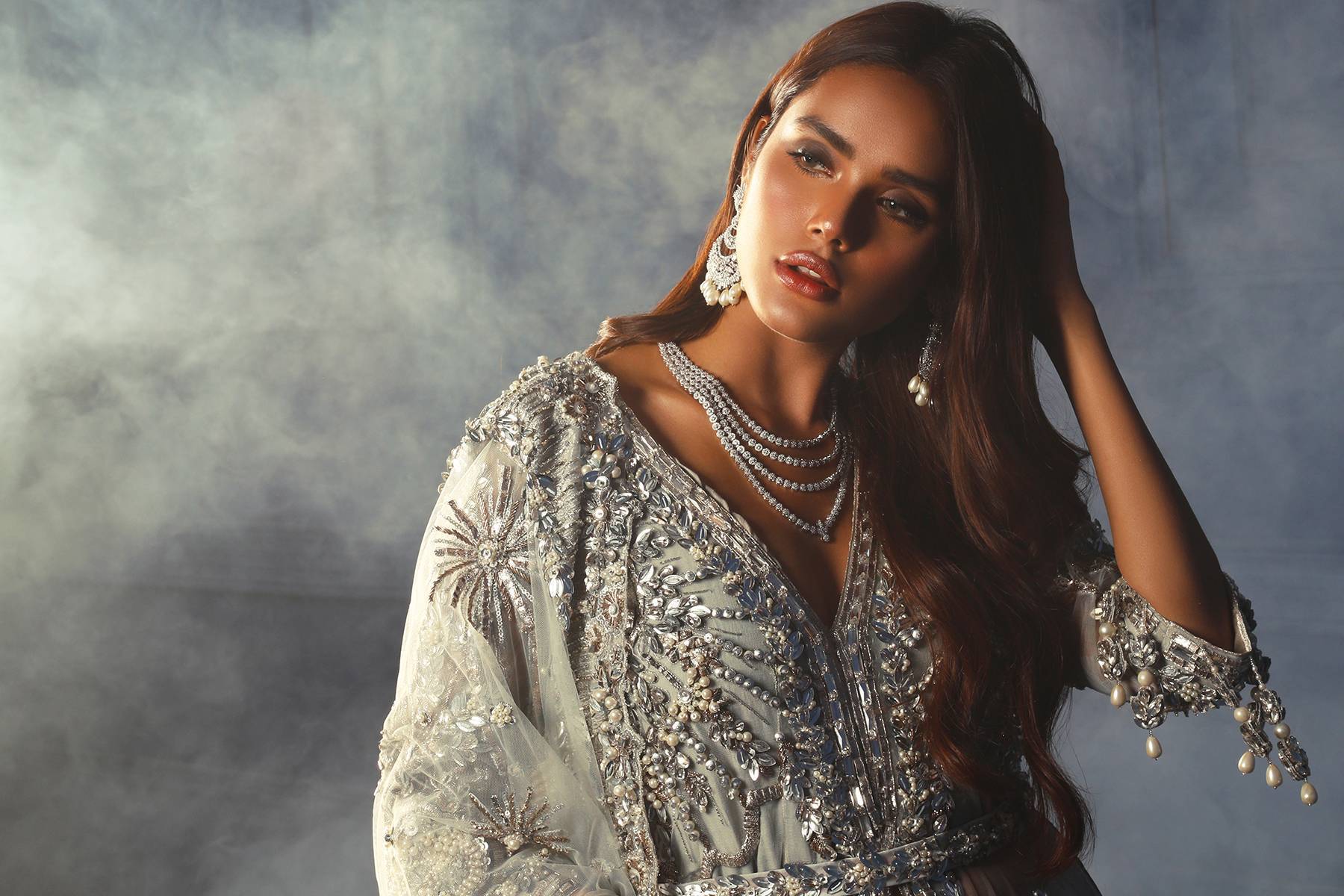 BR-09
A haute heritage front open floor length red tulle jacket with raw silk applique in magenta, worn on top of a cream tulle lengha with silk thread embroidery in pink, green and gold. This Bespoke Bridal boasts glittering gold work using gota, sheesha and zardosi and is topped off with silver crystals, hand cut sequins, dabka and silver thread work. Traditional luxury for the bride who wants to bequeath this timeless keepsake to future generations.
Book An Appointment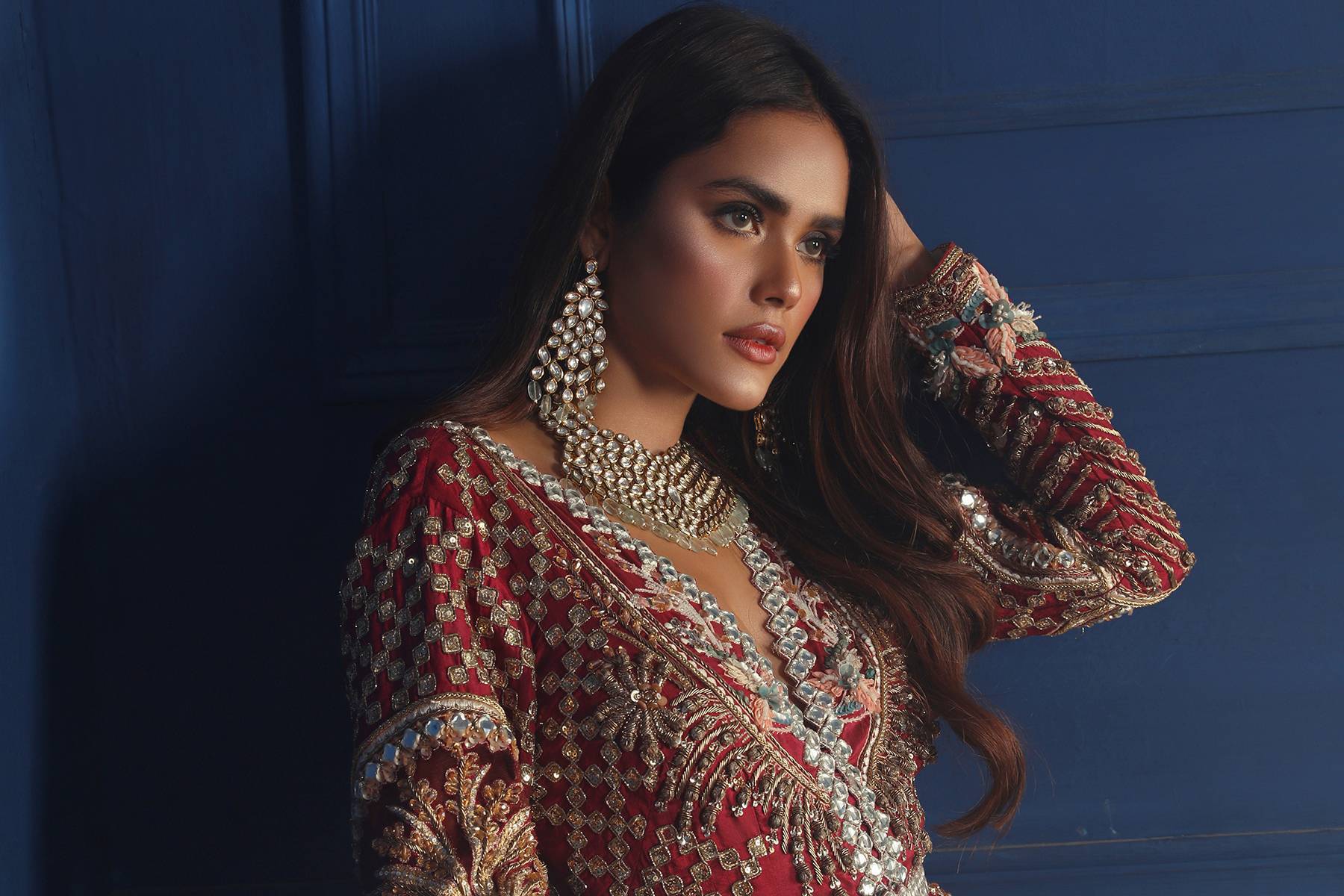 BR-10
Heritage gold and gota work adorn this classic lengha and kurti in multi-tonal lime green with interpretations of the classic tree of life motif. A lime and beige chatta patti dupatta adds to this alluring Eastern couture look.
Book An Appointment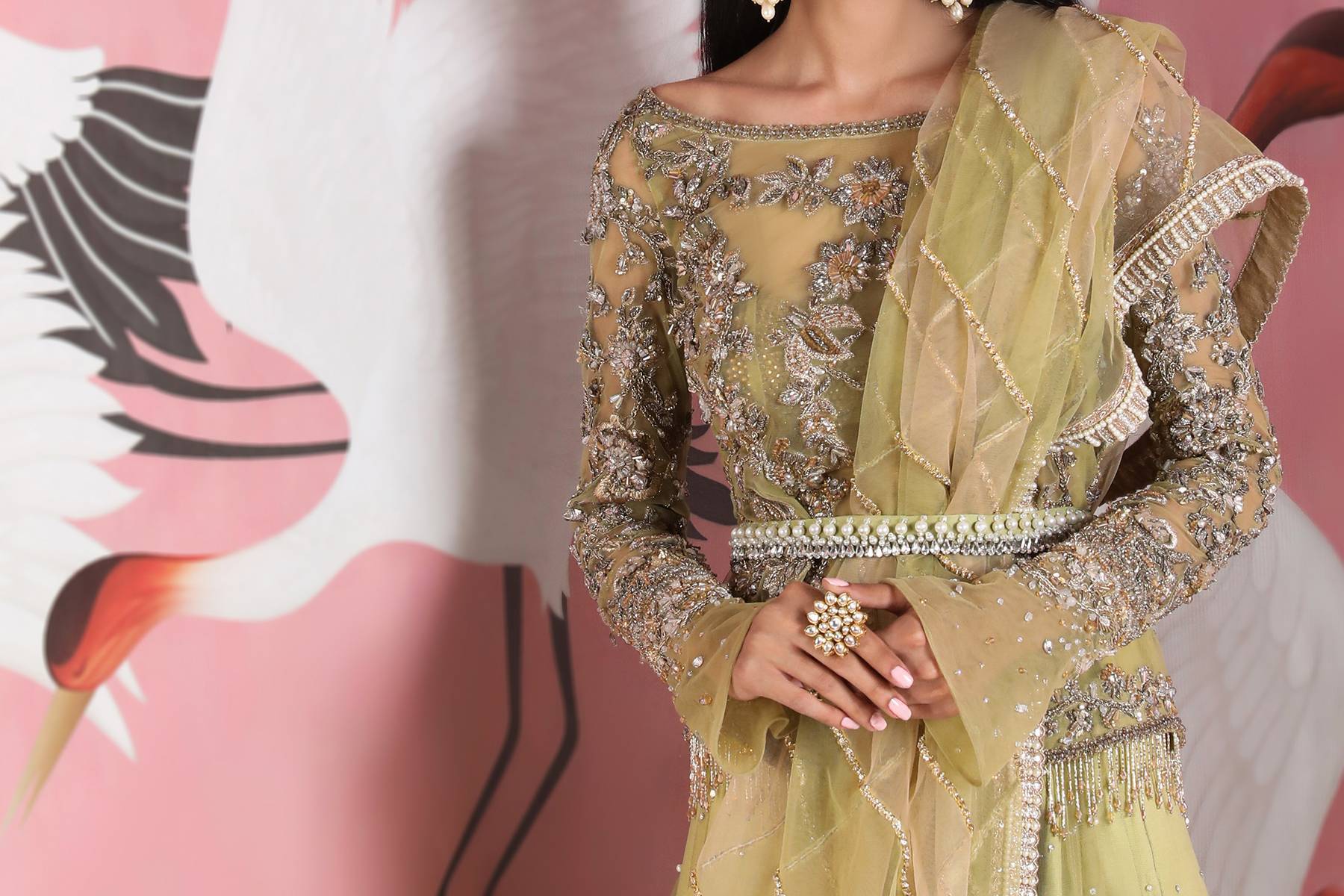 BR-11
Fitted to perfection for an Oriental princess with yards of flowing fabric and meticulous workmanship. A raw silk salmon peach classic lengha choli with a printed and pleated organza dupatta. Exclusively hand worked with silver embroidery and embellishments using tilla, nakshi, hand-cut sequins, crystals and white pearls. A classic SS Bespoke Bridal for timeless elegance.
Book An Appointment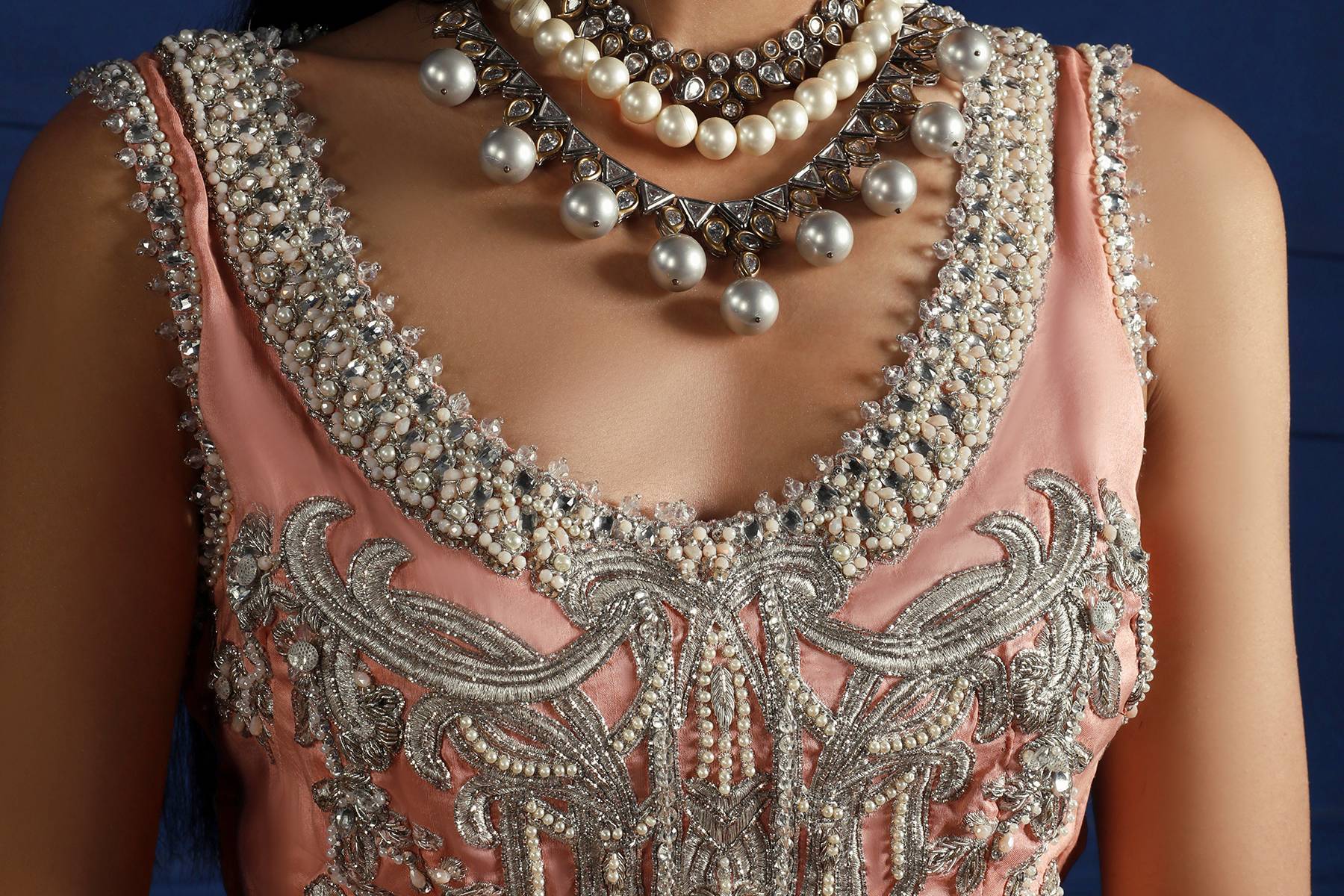 BR-12
Indulge in a surreal fantasy and give expression to the ultimate in Bespoke Bridals in this ethereal off-shoulder dusty ivory tulle flared dress with a sweeping trail worn over a tulle lengha and with a tulle dupatta. Signature hand crafted birds and butterflies flit everywhere and end in a crystallized scalloped garland hemline which sweeps the floor. Intricately adorned with Swarovski crystals, white pearls, opal and white crystals, jewels and semi-precious stones, all gleaming in a bright silver.
Book An Appointment

BR-13
The ultimate luxury fabric, velvet is known for its unique soft and shiny appearance and ability to be draped beautifully. Featured here in a sumptuous peach pink lengha with signature SS three dimensional flowers and motifs with multi-hued threadwork. Paired with a peach pink satin choli and salmon tulle dupatta. A liberal use of premium Swarovski crystals, jewels and semi-precious stones and iridescent pearls makes this Bespoke Bridal stand peerless in a category of its own.
Book An Appointment